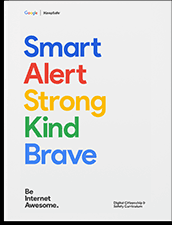 What is Digital Literacy?

The New York Department of Education defines digital literacy as "having the knowledge and ability to use a range of technology tools for varied purposes." Digitally literate people are those who "can use technology strategically to find and evaluate information, connect and collaborate with others, produce and share original content, and use the Internet and technology tools to achieve many academic, professional, and personal goals."

Here at Avoca Central School, our Digital Literacy curriculum is based on children's stage of development. Beginning in Kindergarten, students are exposed to computer applications, keyboarding, coding and programming, and digital citizenship.
The Be Internet Awesome Family Guide gives families the tools and resources to learn about online safety and citizenship at home.
Last Modified on February 7, 2019